SHADE STRUCTURES
Shade structures provide shade and sun protection over playground equipment, water parks, pool decks, benches, bleachers, concession areas, vehicle parking areas, and any other outdoor gathering space imaginable. Advanced Recreational Concepts offers a wide range of shade solutions designed to fit all your outdoor shading projects. Shade structures include shade sails, shade canopies, cantilever shades, awnings, and umbrellas available in a wide range of colors, shapes and sizes to complement your project.
Features of Shade Structures
ARC brings you the latest in comfort, fun, and style from some of the top manufacturers in the industry. Our shade solutions feature: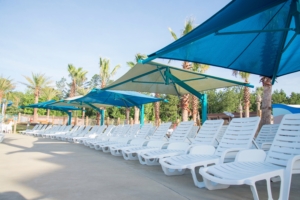 UV Protection – shade structures help prevent the damaging effects from the sun like sunburn, premature aging, and increased risks of skin cancer from exposure
Quality Construction – shade solutions are individually crafted to create a perfect fit for your specific project; engineered for your site plan needs

Easy Installation – each shade structure is designed for easy, no-hassle installation and can be installed in little to no time
Easy Maintenance – when appropriate, shade structures can include a quick release system allowing you to take shades down for severe weather or quick and easy maintenance
By providing high quality commercial grade shade solutions, ARC can create comfortable, attractive security from the damaging effects of the sun. While providing UV protection, our shade solutions are also engineered to withstand high speed winds. If you are concerned about the effects of severe weather from damaging winds or hurricanes, please check with your design consultant on the wind speed rating of all fabric installations for proper care and maintenance during these weather events.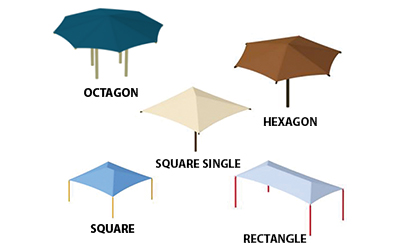 Shade Shapes:
Octagon
Hexagon
Square Single
Square
Rectangle
Advanced Recreational Concepts provides some of the best quality shade structures in the industry. Shade sails and shade structures provide a comfortable play environment that allows children to realize more benefits from extended play times. Shade solutions add protection, comfort, value, and visual distinction to any outdoor space.
Shade Structure Installation
This presentation of time lapse images shows ARC in action with Play Space Services installing a shade structure over an outdoor play area at St. Paul's Christian School in Clearwater, FL.