OUTDOOR SHELTERS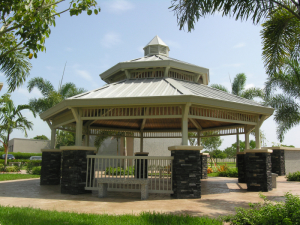 Advanced Recreational Concepts creates outdoor shelters and community open-space structures that are engineered specifically for public spaces. These outdoor shelters will enhance quality of life, bring family and communities together, while creating a comfortable and pleasing outdoor environment. The Structures are designed for severe conditions that will help protect patrons from many of Nature's elements, including harmful UV rays, rain, snow, or hail.
Our Open-Space Structures have factory controlled powder coating paint quality that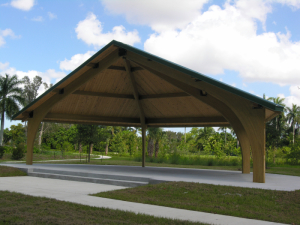 eliminates a sloppy appearance and reduces the need for repainting after installation. All components are pre-cut and pre-drilled to assist in the assembly thus reducing the need for expensive cranes, except on large shelters. All Structures are manufactured from recycled aluminum and steel.
Surface Mount Options:
Steel column subsurface mount or surface mount with covers
Standard wood in-ground column
Each project with Advanced Recreational Concepts comes with both project management and construction installation teams that are highly experienced and trained with installing our products. These highly skilled professionals are very experienced and are committed in providing a safe site environment for both themselves and the community they are working with.
Outdoor Shelters
By combining classic a styles with years of experience and working closely with design professionals, results in a wide variety of innovative high quality solutions for recreational or outdoor public spaces. Our Open-Space Structures include outdoor shelters, kiosks, bus stops, picnic shelters, dugouts, gazebos, park pavilions, playground shelters, sidewalk covers and many more that are perfect for your neighborhood park or playground.