SAFETY SURFACING & RUBBER PLAYGROUND MULCH
Choosing the right playground mulch or safety surfacing material for your playground flooring can be the most important decision you make for the safety of your kids. However, choosing the right company to help you with this vital part of the process is also imperative. Rubber Designs, our preferred supplier, has a variety of products that are produced of 100% commercial waste stream tire rubber. From their world renowned bonded rubber mulch, to the one of a kind interlocking tiles with 20 different patents, Rubber Designs surfacing systems and applications are the best in the industry. Rubber Designs products are great because they are GREEN!
Recycled Rubber Playground Mulch
Loose Fill Rubber Mulch 
Rubber Designs Loose Fill Recycled Rubber Mulch is made from recycled tire buffing and is a popular ground cover for playgrounds due to its soft and springy bounce.  Properly installed playground mulch requires little maintenance and can last for 10 or more years vs. wood mulch. Recycled rubber mulch allows water and fertilizer applications to pass through to the soil and does not attract insects, protecting your playground mulch from pests. 
Bonded Rubber Mulch 
Rubber Designs Poured-in-Place Safety Surfacing is a one-step pour that provides cost-effective, long-lasting, safe, and durable option for any playground or pa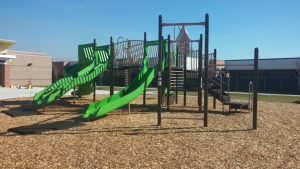 rk setting. All of our safety surfacing offerings have shock absorbing properties and are in accordance with the procedures outlined in ASTM F-1292-96 and ASTM F-1951-99, conforming to standard specifications for impact attenuation of surfaces under and around playground equipment. Bonded Rubber Mulch, a pour in place solution, offers a seamless, anti-fatigue surface that is perfect for any playground, and is a great low-maintenance landscaping option.
Interlocking Rubber Playground Tiles
Rubber Designs Rubber Interlocking Floor Tiles are an alternative safety surfacing solution. They have been tested for all required fall height attenuation exceeding ASTM and CPSC guidelines. Playground tiles are easy to maintain, will not mold or mildew, and resist fading. These tiles offer a simpler way to repair and maintain high traffic areas. Interlocking rubber tiles come in thicknesses ranging from 1 1/2″ to 4 1/4″ in various blends and colors.
Poured-In-Place EPDM
Rubber Designs EPDM Poured-in-Place Safety Surfacing is the most versatile playground safety surfacing offered. When applied to critical fall height zones, EPDM safety surfacing conforms to the guidelines set by the CPSC for use in and around playgrounds. EPDM Pour-in-Place Safety Surfacing is applied in various thicknesses determined by fall height requirements for use in playground projects and is also used in other recreational environments as a non-slip surface for pool decks, walk paths, and water features in fun parks. Our highly trained and experienced installers can create custom inlay designs in nearly any shape, size, or color. EPDM can be ordered and fully installed by the square foot or as raw materials for installation by your own crew or subcontractor.